I read today that Young Hercules is finally coming to DVD (region one)!!!

Shout! Factory is releasing the complete series on six discs on June 23rd. The set is available for pre-order on Amazon in Can…

Read more >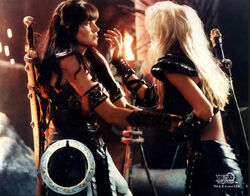 "Sacrifice: Part 2" is the third season final. Hope takes the form of Gabrielle and joins forces with Ares to create a race of superbeings. Hope denies Callisto her wish to die until Dahak is released onto the World and so, in her anger joins Xena and Gabrielle.