Nebula was the half-sister of Gilgamesh and princess of Sumeria.
Nebula left her royal house and country because she disagreed with the unfair treatment of women by Sumerians (HTLJ "Faith"). She went on to forge a career as a great pirate captain.
Hercules and Iolaus first encountered Nebula when she and her crew landed on a deserted island in the Charybdian Sea to bury their treasure. The island was in fact inhabited by Arachne who killed all of Nebula's crew before Hercules and Iolaus were able to defeat her (HTLJ "Web of Desire"). 
This article is a stub, or very short article, that is most likely incomplete and needs expansion.
Nebula is known for her tattoos. Iolaus recognized the "Eastern Calendar" tattooed on her arm while Hercules noted she had been in prison from a tattoo on her neck. She also has Poseidon's trident tattooed on her upper right arm (HTLJ "Web of Desire").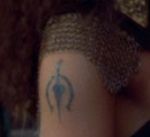 Background
Edit
Nebula was played by Gina Torres.
"Nebula" is derived from the Latin word for "cloud". The term is most often applied to interstellar clouds of dust, hydrogen, helium and other ionized gases. Many nebulae are significant star-forming regions. Fittingly, Torres has gone from her Xenaverse roles on to have quite a successful career. 
Appearance
Edit
Nebula in the Xenaverse
HTLJ Season Four
"Beanstalks and Bad Eggs"

"Hero's Heart"

"Regrets... I've Had a Few"

"Web of Desire"

"Stranger in a Strange World"

"Two Men and a Baby"

"Prodigal Sister"

"...And Fancy Free"

"If I Had a Hammer..."

"Hercules on Trial"

"Medea Culpa"

"Men in Pink"

"Armageddon Now I"

"Armageddon Now II"

"Yes, Virginia, There is a Hercules"

"Porkules"

"One Fowl Day"

"My Fair Cupcake"

"War Wounds"

"Twilight"

"Top God"

"Reunions"
HTLJ Season Five
"Faith"
"Descent"

"Resurrection"

"Genies and Grecians and Geeks, Oh My"

"Render Unto Caesar"

"Norse By Norsevest"

"Somewhere Over the Rainbow Bridge"

"Darkness Rising"

"For Those of You Just Joining Us"

"Let There Be Light"
"Redemption"

"Sky High"

"Stranger and Stranger"

"Just Passing Through"

"Greece is Burning"

"We'll Always Have Cyprus"

"The Academy"

"Love on the Rocks"

"Once Upon a Future King"

"Fade Out"

"My Best Girl's Wedding"

"Revelations"