Young Hercules
Talk

3
2,814pages on
this wiki
Redirected from YH
For the direct-to-video pilot movie, see Young Hercules (movie).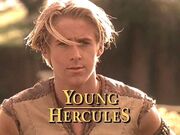 Young Hercules was a television series which aired for one season in 1998 to 1999. It focused on the adventures of Hercules in training at Cheiron's Academy.
In an age of light and darkness, Zeus, king of the gods, rules the universe. He had a son – young Hercules. Half-god, half-man, young Hercules longs to find his place in the world, the father he's never known and what it means to be a hero. Before the man became legend, before the legend became myth came the greatest adventure of all.
–Series intro
Ian Bohen portrayed Hercules in the pilot movie.
Young Hercules pilot movie
"Forgery"
"Fame"
"Sisters"
"Cram-ped"
"Con Ares"
"Mila"
"Apollo"
"Ill Wind"